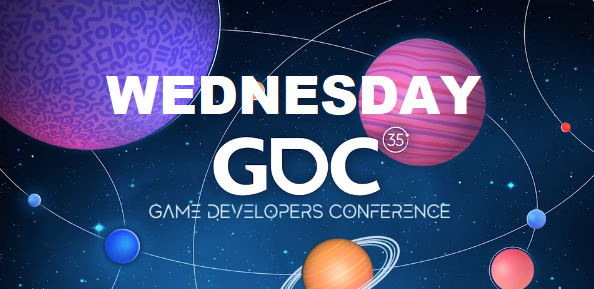 Cross Promotion: The Benefits of Collaborating with Other Developers
Speaker Philomena Schwab
Co-founder & Game Designer Stray Fawn Studio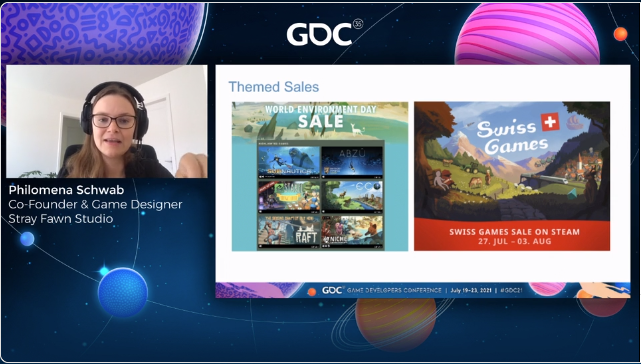 This was the greatest marketing talk I saw at GDC this year. You should really do what Philomena is talking about here. These tactics will get you more wishlists, more sales.
It is very action oriented. Start working on this stuff now…
What is Cross-promotion? Basically supporting another developer with marketing and they support you with additional marketing. Or working together and promoting together.
Why cross-promote games? It is free! And a great place to start if you don't have any other exposure or money.
65% of developers said they have done some form of cross promotion multiple times in their career.
4 basic ways to cross promote

Shout-outs
Knowledge share
Themed sales
Tool sharing

Shoutouts – Example – Philomena created a reddit post for her friend who is making Omno  on reddit. Here is the link to the post. Her post got 80K upvotes. Title is "A friend of mine is creating this beautiful adventure game all by himself!" here is a link.
Knowledge share – Sometimes it is just to tell other indies what has been working and what hasn't been. Landfall (developers behind Totally Accurate Battle Simulator) is a company she was friends with. She took them to lunch (they had tiny burgers) and they told her about how well their email list did when they offered a free demo in exchange for an email signup. She used that tactic when it was time to do a kickstarter   and it did well for her. (CZ side note YAY email)
Themed sales – Philomena organized the Swiss games festival on Steam (because, well, she is Swiss.) These themed sales are HUGE lots of wishlists. She organized it by getting all the developers she knew locally and recruited big popular games that sold well. Valve only lets you setup stuff like this if you have a headliner that can really make them money. She also recruited a lot of up and coming games.
Tool sharing: Pixel maniacs is a development studio and they made this cool tool that notifies you if your game is being played on Twitch and sends you a link so you can jump into chat. They share it freely with indies if you ask. Many indies have probably made a tool they use so be a good dev and share it with other indies.
Other cross promotion ideas
Enhanced Communication – She started her own discord for developers who are a bit more advanced instead of beginners.
Steam – If you have a successful game, add a widget on your steam page that links to your friend's steam games. There is a "special announcements" section on your steam page and if you add a link to any other steam game it will convert it to a widget. Philomena estimates that 1/3 of their wishlists come from that widget.
Bundles – Steam allows you to bundle up your game with friends. They recommend keeping it to 3-7 games so the bundle price doesn't get too high. Or pitch a bundle to Humble.
Kickstarter Bundle Rewards – Another studio that was making a nature game similar to her company's named Away The Survival Series started a Kickstarter. To incentivize people to back their project they gave away steam keys for her game Nieche. To do this they bought keys from her for about $1 a piece. The income they made from the Kickstarter more than made up for the cost.
Loyalty discounts and cross promo announcements – This is a coupon feature where if someone owns one game you can give them a discount on another. Steam doesn't really do this anymore because I guess fans didn't like it.
Themed game website & community – Philomena created PlayfulOasis.com which is to foster a community focused on nature games. They have a Steam curator page, they had a slack and a Twitter account and list all games that participate. Although this didn't lead to a major influx of wishlists, it lead to meeting a bunch of nature game developers. And that relationship lead to her organizing world environment day sale on Steam. THIS brought in a lot of wishlists and sales.
More crosspromotion ideas
Put characters of friend's games in your game
Shared booths – Conferences are expensive but you can buy one table and share it at like IndieMegaBooth and indie arena
Share all the email addresses of press, youtube streamers, or scammers who try to get free keys with other Developers. You can pool all your lists together. (CZ Sidenote if this is a list of Journalists and Streamers that is ok through GDPR because they are working in a professional capacity and accept pitches from people. Sharing email addresses of regular old fans who joined one of your email lists but not everyone else's is NOT OK under GDPR.)
Share development team – share artists to help out with things like capsule design.
What were the excuses of game developers who didn't cross promo?
They didn't even think about doing it, it was new to them.
They didn't know other developers – So! Go out to events to meet other developers (once it is safe to do so).