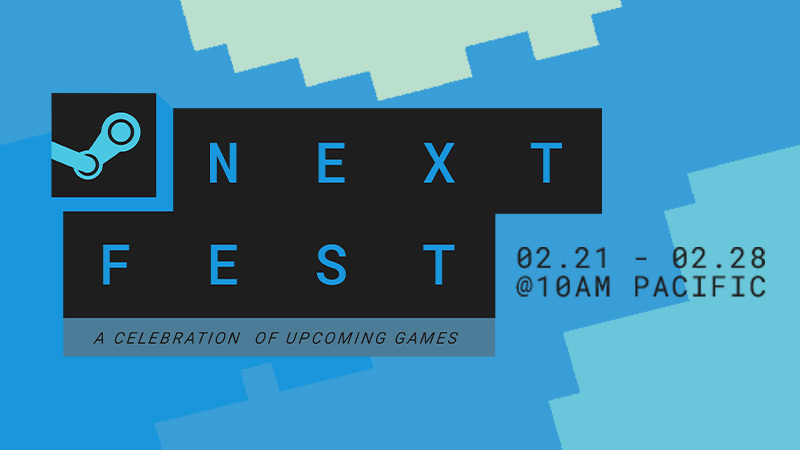 Every 4 months Valve hosts their Steam Next Fest to showcase the games of the platform. It is free to enter, they accept anyone, and it gives you a ton of visibility. But because of that there are always a TON of games you have to compete with.
From February 21 through February 28th. See the Next Fest Page here
Here are my big observations from this festival.
Game genre determines success more than anything else you do
The Steam Next Fest had a series of tabs for the most popular games of the festival such as Popular Upcoming, Most Wishlisted, Daily Active Demo Players. I thought the "Daily Active Demo Players" tab was interesting because it gives a glimpse as to what types of games most Steam players are actually playing. Here is what I saw:
7 of the top 12 were some combination of Strategy / Builder / Simulator.
4 of the top 12 were horror games
1 was an action adventure game.
0 of the top 12 were platformers
I shout this to the heavens: the type of game and the genre that you make is the most important marketing decision you will ever decide. And as evident from the screenshots, Steam players really REALLY like strategy / building / sim games. And surprisingly, they really like horror games too.
Now you might think this was because there was an over-abundance of Strategy / Simulation games in the festival. Luckily the festival navigation had a list of the top level genres and the number of games in each. As you can see in the following screenshot, the genres with the most games were Adventure (291) and Action (290) and casual (178). Simulation (137) and Strategy (153) are in the middle of the pack.
My advice
Steam shoppers really want strategy / simulation / building games and most indies are making action adventure games! You will stand out and have a better chance if you start making the types of games that the Steam audience wants to play.
Try for visibility before the festival
Many of the featured sections in the Steam Next Festival were based on Wishlist Velocity. Basically the algorithm looks back a few days (probably 1-2 weeks) and calculates how many wishlists you are earning each day and ranks you with all the other games and then features you accordingly.
I saw this first hand with the game The Matriarch. A couple weeks ago I mentioned that the Matriarch got a ton of visibility from some viral TikTok videos. That boost in traffic triggered the algorithm enough that on the first day of the festival the Matriarch was among the "Daily Active Demo Players" list.
I also heard from other developers who ran big streamer campaigns a week before the festival that it had a big effect on getting their games to appear in the top played lists.
My advice
For any upcoming Next Fest, start your marketing campaign a couple weeks ahead. Focus on high-traffic platforms like Streamers, Reddit, and Tiktok.
Steam still thinks wishlists are important
Whenever I am trying to figure out what strategy will work on Steam, I look to see what Valve is recommending. It sounds simple (a bit too simple) but remember they have access to all the data and they earn more money when we earn more money. They are basically pleading with us to follow best practices.
So what are the best practices? Well I watched the brief intro video put out by Valve's Kaci Aitchison and her big call-to-action at the end of the video was
Don't forget to wishlist the games you love so you can follow along with your favorites long after the festival ends.

Kaci Aitchison
Similarly Valve has kept the easy wishlist buttons on every Stream
And continues to have a quick wishlist button on every hover tooltip
And the very bottom of the festival has these 3 tasks:
Also in an official Steamworks blog about Steam Next Fest, they bragged that their most recent festivals are increasing the median wishlists rate and had this quote…
The median released game saw an increase of 500% in "converting wishlists" made during Next Fest compared to converting wishlist additions made in the two weeks leading to Next Fest.

Valve
Simon Carless has done some great analysis to wishlist quality. He has conjectured that a festival wishlist is worth 50%-75% of a typical organic wishlist. I totally agree that wishlist quality during a festival is lower because many people are just wishlisting to "bookmark" the game for later play. But the quality isn't so poor that participating isn't worth it. If you get 1000 festival wishlists and they convert at 5% instead of 10%, that is still 50 sales that you wouldn't have had if you didn't do the festival.
My advice
Wishlists are still worth chasing but if you are trying to model how many sales you will have at launch, discount the wishlists earned during festivals by 50%.
Try to host your official live stream when there is high-traffic but with little competition
As a festival participant you get to pick 2 featured streaming spots. When selected, your live stream will be featured on the front of the festival. Participants were sharing their status in the official HTMAG #share-your-numbers discord channel while they were live streaming. As you can see having a featured spot brings in thousands of viewers.
Should you pick to be the first spot of the entire festival when you know most shoppers will be viewing but the competition is fiercer? Or should you pick the spot when there are fewer shoppers but less competition? So what is the best strategy?
It seems the best answer is a mix of the two. So maybe the first day of the festival but towards the end of the day. Before the start, you can see the other games that share your spot and still reschedule before the start of the festival.
However, too late of a change will require you opening a help ticket with Valve. Only use this support ticket if something goes really wrong with your selected time.
Also seen around the show
There were a lot of other funny things I saw in this show that I think are worth pointing out but I don't have a huge overarching thesis about them.
Dress up for your stream
More developers are doing it. Don't know if it helps but you sure do look great.
Here is a screenshot of the live Stream for Chambers of Devious Design
Here is a screenshot for Diplomacy Is Not An Option that was not in the festival but had some great cosplay:
A category of 1
When I was looking at number of games per genre I noticed that for the genre of "Software" there was only 1 game listed.
That game is Robo Maestro and is a really fun looking procedural music toy. I reached out to the creator, Joost van Dongen, to see if it helped to have a genre all to himself. He said
No one clicks Software on Steam especially if it's hidden behind a More Genres button

Joost van Dongen
So basically, just because you are the most different game in the festival and have little competition, it doesn't mean you will get more visibility.
Give me your data
I am interested in getting more data on this festival. If you had a game in the Feburary 2022 Steam Next Fest please complete this short survey
link: Complete the survey