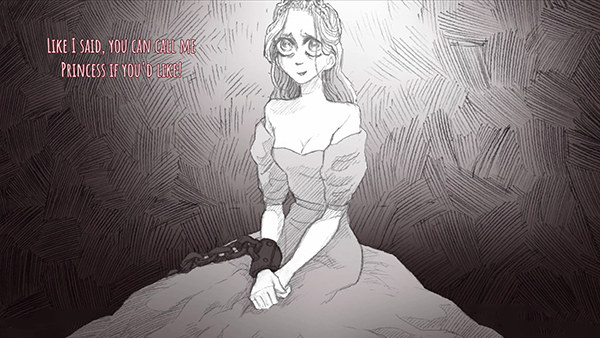 Occasionally I am posting a mid-week all about some really cool things that indies are doing that are having real, tangible results. I hope it is inspiring and show you that there are things you can be doing to move your game forward.
Twitter Trends Success
On Monday I wrote about this technique on how to go viral on Twitter by jumping on trending topics. Well game designer Kelechi Apakama tried it and it worked for his game Stormrite!
He saw "Gamepass" was trending so he tweeted the following:
Here is what he said happened next.
Just wanted to share that the technique mentioned in yesterday's post worked great, at the first attempt! "Gamepass" was trending so I tweeted this out, and it's blown my previous like record out of the water:

Kelechi
The tweet also converted! It yielded him 522 wishlists and it is still getting engagement:
Demo success for narrative games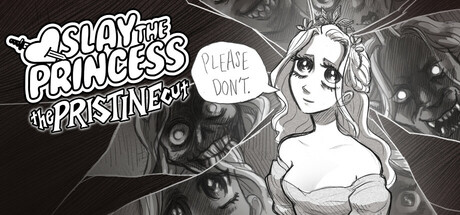 I have seen demos do wonders for replayable games like rogue-likes and survivor style games like 20 Minutes Till Dawn. But, one of the biggest questions I get is "Can demo's work for narrative games?" A new demo for Slay the Princess is an early indicator that it can. Here is what happened:
Black Tabby Games is a 2 person studio: Tony (code, narrative, and marketing) and Abby (Art, design, narrative).
Their first game is a 7-episode visual novel called Scarlet Hollow.
Tony had some open cycles to do some work while his partner Abby was finishing Scarlet hollow so he decided to make a completely separate narrative game called Slay The Princess in parallel to Scarlet Hollow. You can read how this worked on their development blog.
Abby finished the art for the Slay The Princess demo in a week and they launched the Demo on August 1st to correspond with their acceptance into the Tiny Teams festival.
The initial promotion of the demo was from a combination of mailing list Mailing list (8,300 people)
Discord (1,500 members) Scarlet Hollow's steam page (3,200 followers, ~10,000 owners) Good YouTube/Twitter coverage (cumulative 82,000 trailer views on our announce tweet, cumulative ~600,000ish YouTube views of advanced-previews of the demo that went out prior to today)
This effort yielded 1500 downloads and 500 daily plays of the demo.
Strangely, their amazing promotional efforts for Slay the Princess caused the demo to be featured on the "most played" demos on Survival Fest (despite them never entering it). I think it is a bug or something? Who knows, but they are getting visibility. A LOT of visibility.
Just the launch of the Slay the Princes Steam page resulted in 12,300 wishlists. We don't have enough wishlist data yet from the demo but it has to be a lot because it is listed as one of the "Most Downloaded Demos"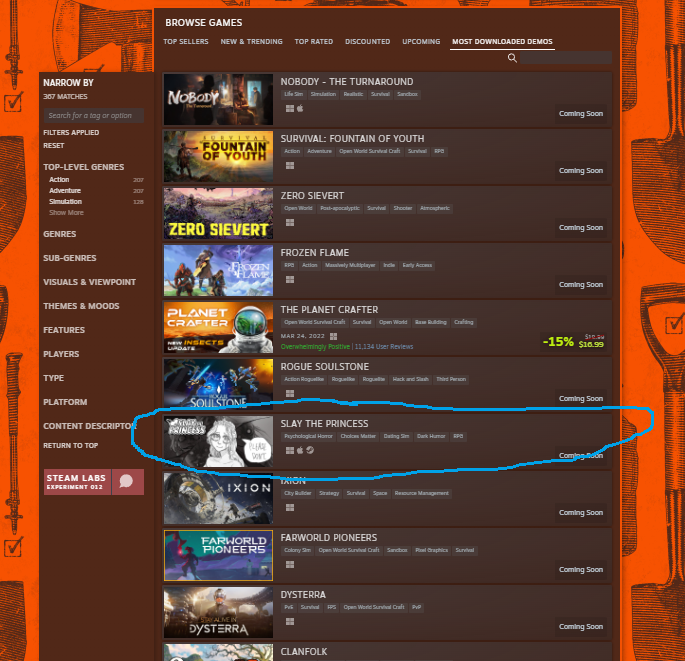 The Slay The Princes demo has also increased the number of sales of their first game Scarlet Hollow. Tony provided me this chart. July 25th was the launch of Slay the Princess steam page and you can see the impact on daily sales.
How does a demo of one game increase sales of another game? First, Slay The Princess ends on a big cliffhanger and then immediately goes to this big CTA screen. Look at the far left square, there is a button to go play the Scarlet Hollow Series.
Here is what Tony recommends if you have a narrative game and are looking at making a demo:
It's important to think about demos for narrative games from the perspective of a marketer. It isn't enough to just give someone 20 minutes or an hour of a story and assume that'll be enough to convert them. You have to make sure there's a hook at the beginning of your demo that's strong enough to get people to play through the entire thing, and then there has to be another hook at the end that makes them want more. Think about what TV shows keep you watching after the first episode, and think about how they did that, and apply those lessons to your game. Cliffhangers, replayability, and community are all ways to keep players coming back.

Tony – Black Tabby Games
Survivor-likes are still a HUGE thing!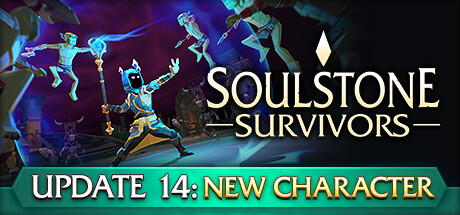 I wrote about the Vampire Survivors success and then Flanne made 20 Minutes Till Dawn which is a survivors-like and it succeeded. Now lots of them are coming out… and they still are getting a lot of attention.
One of the latest is Soulstone Survivors. This game is made by Allan at Game Smithing. He was working on a rogue-like called Rogue Soulstone but took a brief brake to jump on this trend.
He used a lot of the same code from Rogue Soulstone but adapted the meta to make Soulstone Survivors. Then he published a demo. The demo rocketed to the top of the "Popular Demos" list.
With the Soulstone Survivors demo live and on the top demo charts, they racked up 2986 wishlists in a day. The demo is very good! Streamers love it. The median play time is over 2 hours! For a DEMO!
Not only that, the Survivors demo has a small in-game call-to-action to checkout his first game Rogue Soulstone. This CTA had an immediate effect on wishlists. Giving it almost 1000 in a day:
The Soulstone Survivors demo was so popular that it also pushed Rogue Soulstone onto the front page of the Steam Survivor Festival Most Download Demos. Allan didn't even enter it into the festival and it showed up!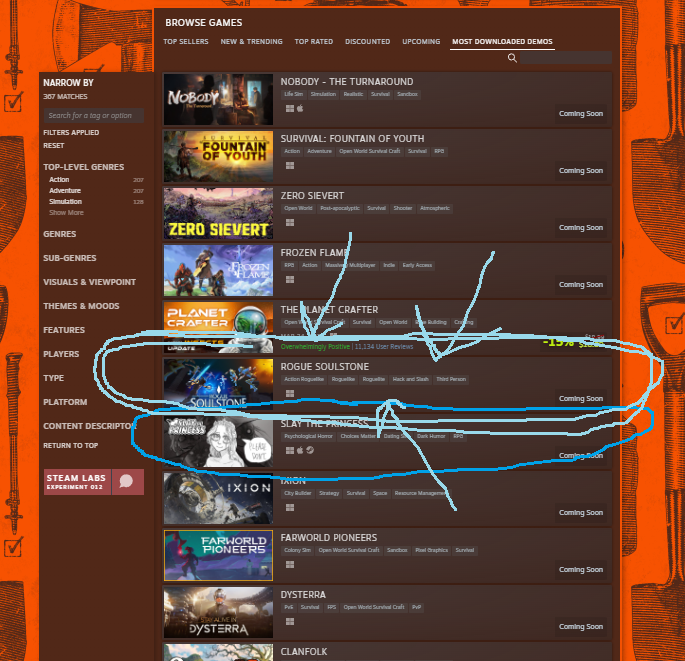 So just to recap:
A developer takes a break from his in-development rogue-like dungeon crawler Rogue Soulstone.
He publishes a demo for a Vampire-Survivors-like called Soulstone Survivors and in 1 month it generates 34,724 wishlists because of streamers and because it showed up on Steams Top Demos lists (This list by the way is HUGE).
The popularity of that demo then pushes up traffic of his original game Rogue Soulstone.
That makes Rogue Soulstone show up in a "top demos" list in a festival he didn't even enter.
So what are the lessons here?
Vampire-survivors likes are WHITE HOT right now. People can't get enough of them on Steam.
Make sure your CTAs link between your games because the popularity of one can influence the other.
Other Facts!
Because Rogue Soulstone and Don't Slay the Princess are both on the Most Played Demo list we can estimate how many plays you need to get on there.
Tony said Slay The Princess had 500 daily players and got them to the 7th spot on the list.
Allan said Rogue Soulstone had 650 daily players and got them to the 6th spot on the list.
How to make a good demo?
1 year ago I launched GameMarketingIdeas.com which was a public repository of all the marketing ideas and cool tricks I saw people post, and lectures about topics such as making demos. Here is a clip from my lecture of how to make a good demo. Here is a preview clip:
Because it is the 1 year anniversary of launching GameMarketingIdeas.com site I am giving a 50% off discount. Pick it up by clicking the following button