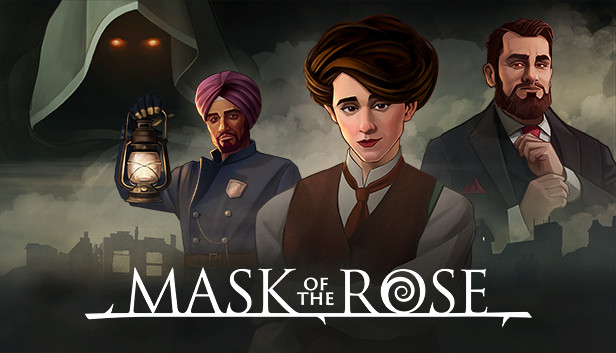 Festivals, a mid-sized streamer playing your game, or a major article in PC Gamer can all earn your game around 1000 wishlists. It's great when it happens! But you can't count on those coming through. You are dependent on someone else. You have to convince each one of those gatekeepers to let you in and showcase / play / write about your game. In the marketing world that is called "Earned Media"
But what if you could summon 1000 wishlists whenever you wanted? That would be truly powerful. That is actually what Failbetter Games and their communications director Hannah Flynn did using their mailing list:
One email from Hannah and instantly 1200 wishlists appear. Magic.
As you know, I am a total fan of Mailing lists and I know it seems boring and old fashioned and lame but they really do work. So when I read Hannah's tweet I had to ask her everything about it! 
In today's blog you will learn
How a studio successfully builds an engaged mailing list
How to communicate with them on their terms
Actual numbers showing expected success
Tips for writing to your fans
How this happened
Hannah Flynn is communications director at Failbetter Games, where she has worked since 2014 on such titles as Fallen London, Sunless Sea, Sunless Skies and the upcoming Mask of the Rose. She came to games marketing from roles in the wider arts and culture sphere, at Tate, Penguin Random House and the children's charity NSPCC. She is also a freelance games marketing consultant. She lives in Brighton, UK, with her wife and daughters.
Failbetter are an independent games studio, creating games and stories mostly set in the Fallen London Universe.
The Failbetter newsletter is drawn from signups to Fallen London, their live service, text-based browser game which has been running for 12 years.
"We're set up to send marketing emails to players if they indicate they want to receive them. Because the game has been going for so long, we've had well over a million accounts created. Not all of them have opted to receive marketing communications from us, but it does mean that our list is hundreds of thousands of somewhat engaged people. 

Hannah Flynn
Failbetter are currently developing a Steam game Mask of the Rose so Hannah sent the mailing list a quick note to encourage them to wishlist it. Here is the text of the email.
Here are images of the email or scroll below for the full text.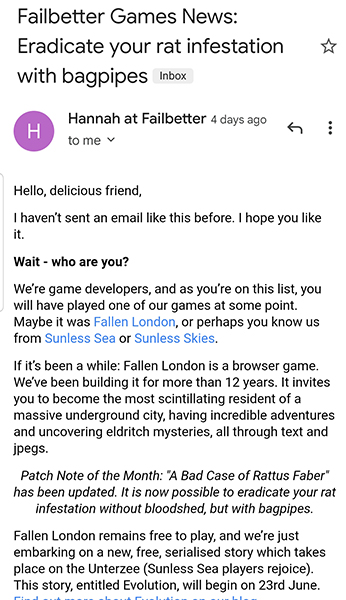 "Hello, delicious friend,
I haven't sent an email like this before. I hope you like It. 

Wait - who are you?

We're game developers, and as you're on this list, you will have played one of our games at some point. Maybe it was Fallen London, or perhaps you know us from Sunless Sea or Sunless Skies. If it's been a while: Fallen London is a browser game. We've been building it for more than 12 years. It invites you to become the most scintillating resident of a massive underground city, having incredible adventures and uncovering eldritch mysteries, all through text and jpegs.

Patch Note of the Month: "A Bad Case of Rattus Faber" has been updated. It is now possible to eradicate your rat infestation without bloodshed, but with bagpipes.

Fallen London remains free to play, and we're just embarking on a new, free, serialised story which takes place on the Unterzee (Sunless Sea players rejoice). This story, entitled Evolution, will begin on 23rd June.

Mask of the Rose

If you've played Fallen London down the years and 1) enjoyed the story but (optionally) 2) not fancied the metered-out nature of the gameplay, our upcoming game is a visual novel set in the same world. Mask of the Rose is both a romance and a detective story, in which you must solve the first murder since London was stolen by bats.

Mask of the Rose development blog for June: Introducing Ivy, a bohemian seamstress

Games we've been interested in lately

- Fabled Lands, based on the popular gamebooks, has given us lots to talk about 
- Likewise Citizen Sleeper, which invites you to 'roleplay in the ruins of interplanetary capitalism, and which our narrative director Chris Gardiner called the best story-driven game he's played in years
- The Last Clockwinder, the last project our new writer George worked on before joining us full time: a VR game about building factories out of your own clones. I mention it because there are strong Fallen London vibes in that description, plus the robot clones are adorable. 
- We also enjoyed quite a few board games as a team when we got together in May,  including Clank and Condottiere. Tweet of the month, from Bruno, Senior Writer and Narrative Designer "game design is very easy actually. you just put in the good mechanics and not the bad mechanics."

Tweet or the month, frombruno, Senior writer and Narrative Designer

"game design is very easy actually. you just put in the good mechanics and not the bad mechanics.".

We're hiring

We're looking for a back-end web developer to work on Fallen London. If this is you, or someone you know, here is the job post. 

Lastly, a favour

If you'd like, you could do us a massive favour and wishlist Mask of the Rose; it really does help us out. Especially those of you who are already sitting at your desk and happen to be signed into Steam. Statistically that might be thousands of you. That would be quite something. In return I promise to come back next month with more jokes about rats.

We'd like to keep sending you news in this format, if you found it interesting. It's the first newsletter like it, so please let us know your thoughts. And if you'd rather unsubscribe, there's always the link at the bottom, and well say no more about it.

Your delicious friend,

Hannah
The results
Hannah sent me the results of this single email. My commentary is in parenthesis.
Open Rate: 26% (cz note: This is great. A good mailing list usually has a 15%-30% open rate. Open rates tend to decrease the bigger the list, and the longer your subscribers have been part of it.) 
Click Through Rate: 2% (cz note: This is quite healthy. Typical range for click through rate is 1%-15%. The bigger clickthrough rates typically occur when the email is shorter and there is only 1 call-to-action (CTA) link. In this case, the Failbetter email was also serving as a status update of the studio and Fallen London which diffused the attention of the audience (which is totally fine!) As the Failbetter team continues to email on a regular cadence with the same CTA, more and more people will eventually see and click that wishlist link.)
Unsubscribe Rate: 0.6% (cz note: Look at that number! Indies are always afraid that they are "spamming" or "irritating" their audience when they send newsletters. Email service providers start to flag your email as spam if your unsubscribe rate is around 3%. This is a high quality email that is not even close to a 3% unsubscribe rate. Your fans want to hear from you; so don't deny the majority of your list that privilege because you are afraid of the 0.6% who don't want to hear from you.
Wishlists earned:1,200 so far, and the tail is looking pretty good. (cz note: Email typically has a very long tail compared to most social media.)
The community reaction
One of the things I love about email marketing is that readers can just reply to your email and you get some pretty unvarnished feedback.
"Loads of very positive responses, way more than I expected! Someone else was cross that we were emailing them about a game made of text and jpgs, which is apparently appalling. I don't know what to tell him because we don't buy emails, so he signed up for it at some point!"

Hannah Flynn
Tips you can use from this email
I want to review a couple interesting bits from Hannah's email here that are really smart and worth adopting in your own email practice.
Keep it simple
The design of the Failbetter email is simple. It is text based, no complex layouts, there is only one image in the whole thing. This is great. Email is personal and 1×1 communication. If you make it look too professional it feels corporate which is counter to how most indies communicate with their fans. 
Certainly using Mailchimp pushed me in a glossier direction. But recently, because of the prohibitive cost of mailing to that many people with Mailchimp, we've started using Sendy, which is a simpler service. So that got me thinking about what the requirements for our marketing emails are. Do they need to look extremely polished and jazzy, just because bigger places do it that way? As a studio, we're heavily known for our use of words. Couldn't I lean into that?

It has to be obviously lo fi and a bit silly, so people don't get expectations around it – it'll be different every month by necessity, so I haven't designed fancy section headers or anything which I'd then be stuck with. Don't set yourself a rigid format that you'll be sick of after a few months.

Hannah Flynn
Remind them who you are
One of the first things in the email is the header "Wait – who are you?" This is brilliant. I know you and your team think about your game every second of every day but your audience has busy lives and they may have played your game months and months ago. You must provide context and set the stage before you go all in on marketing to people.
The body copy had to give context for a message that would have largely been coming out of the blue for people, given that they only usually hear from us via email on the day we release a game. "Wait – who are you?" is a brand-appropriate way to include that context (I pictured our reader saying, "what the fuck is this then?" but didn't want to be so blunt myself!).

Hannah Flynn
Keep it personal
The email is written almost as if it is from a friend.
I try to use the second person when addressing our audience instead of the vaguer 'players' or 'everyone' – the intended audience of an email is one person.

Hannah Flynn
Understand your audience
If you are trying to sell to your audience (asking them to wishlist) you must relate to them. That only happens if you understand who they are. Hannah has very obviously studied who her customers are and what they like about the Failbetter games.
"We're talking to our Fallen London player, someone who we know very well. Fallen London players are generally interested in the written word, they're largely from the USA and enjoy English things, they're a wide range of ages and genders and somewhat mature in their taste in games.

Our game universe is very specific, to the point where people often remember particular phrases from playing Fallen London for many many years. It's an alternate history Victorian London, so the language can be weird, and quite purple. "Hello, delicious friend" is the way the game has addressed you since very early on. Fallen London also has its share of rats, and there's a well-known early game story where you're dealing with a rat infestation. It's a funny and memorable story, and we just happened to update it last month with an additionally funny twist (you can try to eliminate the rats through non-violent means, aka playing the bagpipes badly). It felt like this would be very hooky for people who knew our stuff well and intriguing for people who didn't.

Hannah Flynn
How to build a mailing list
How did the Failbetter team get hundreds of thousands of people to join their mailing list?
"Fallen London is our live service game which has been running for 12 years. we're set up to send marketing emails to players. because it's been going for so long, we've had well over a million accounts created. Not all of them have opted to receive marketing communications from us, but it does mean that our list is in the hundreds of thousands. 

Hannah Flynn
So fans either sign up for the game here: Fallen London
Or they can sign up directly for the list using this signup form
Done right, a mailing list will have the highest engagement rate of any of your platforms (yes even Discord). This is because it is kind of hard to join a mailing list and involves a lot of typing and sometimes you have to do a 2-step email verification. So only the true diehard fans are going to be on your mailing list.
Most of your mailing list subscribers will come after you incentivize them a bit with a freebie. One of the best ways is to give away beta access in exchange for an email. The Call to action is basically "Sign up for our beta by entering your email address below and we will send you a key when it is ready."
Failbetter is in a unique position because they are giving away access to Fallen London which is free-to-play but there is no requirement to ever spend money on the game. So fans are motivated to enter their contact information in exchange for access to the game.
Email subs or Wishlists?
I often get asked "should my primary call to action be to wishlist my game on Steam or to join my mailing list?"
As much as I love email subscribers and believe in their power I do have to acknowledge reality. More people are willing to wishlist a game than join your mailing list. If your primary Call to Action is "join my mailing list" you are going to turn away people who would have wishlisted your game but aren't yet ready for the full commitment of the email list.
So I recommend you push people to wishlist your game but as soon as they do that, quickly and quite loudly remind them that they should also join your mailing list.
A long term strategy
Your mailing list doesn't give you an immediate return on investment, it takes time to build.
The Failbetter team has been at this for over a dozen years. But now is the best time to start.
The strength of the email list is that it is something you grow across several games. It becomes easier to build your studio over time because you can convert fans of one game to go wishlist your next game. It rolls up like a giant katamari ball. Slow at first then bigger and bigger.
Additional resources
If you are new to email marketing I gave a GDC talk about how an email marketing system works
If you are interested in reading more about mailing lists check this out: